Windows üzerinde Docker kurduktan sonra aşağıdaki hatayı aldım. Hatayı aratınca farklı şekillerde çözüm önerileri gördüm. Denediğim çözümlerden yalnızca bir tanesi bende çalıştı. Çözüm yolunu sizinle paylaşıyorum.
Hata Mesajı = Unable to create: The running command stopped because the preference variable "ErrorActionPreference" or common parameter is set to Stop: Hyper-V encountered an error trying to access an object on computer 'HOST-NAME' because the object was not found. The object might have been deleted. Verify that the Virtual Machine Management service on the computer is running.
Hatanın çözümünü adım adım sizlerle paylaşıyorum:
1 – Windows Güvenliği açınız.
2 – Windows Güvenlik menüsündeki "Uygulama ve tarayıcı denetimi" tıklayınız.
3 – Ekranın alt tarafındaki "Exploit protection ayarları" tıklayınız.
4 – Açılan ekrandaki "Program ayarları" seçiniz.
5 – Program ayarlarındaki C:\WINDOWS\System32\vmcompute.exe" üzerine tıklayınız ve düzenleyi seçiniz.
7 – Açılan menüdeki program ayarlarından  "Denetim Akış Koruması (CFG)" altındaki "Sistem ayarlarını geçersiz kıl" seçeneğinin "unchecked" olarak işaretleyiniz.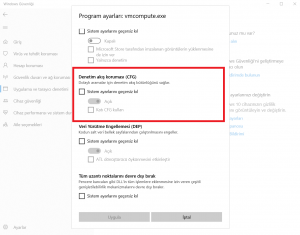 8 – Powershell açarak "net start vmcompute" komutunu yazınız.
Bu işlemleri yaptığımda ben bir daha bu hatayı almadım. Umarım sizin probleminiz de çözülür.